An Important Upgrade to Your Home.
Standard wiring is becoming obsolete because it does not support High-Speed Internet or digital communication needed for the new generation of Stereos, TV and Media Centers.
"Today's home technology is rapidly changing.
How we wire for it needs to change, as well."
This evolution started with High-Speed Internet, Digital Cameras, MP3 Music. It will soon include High-Definition TV (HDTV), Internet Radio and Computer Media Centers that store music, movies and TV programs digitally, which in turn can be played on any Stereo or TV.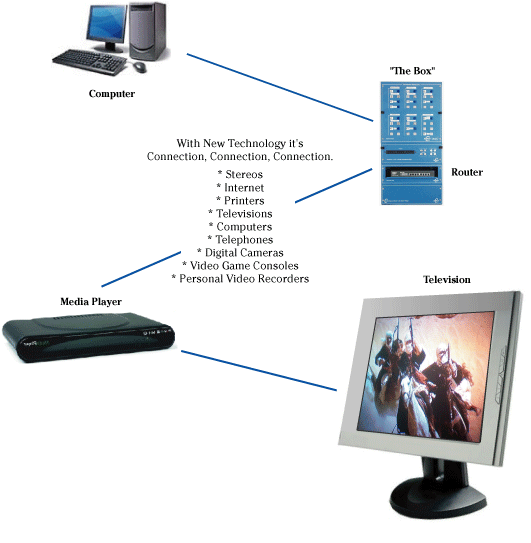 In the next two years Americans are expected to spend $8 billion on PC media centers and digital media products. We are living in a Digital World and unfortunately standard wiring only gives you Telephone and Cable. Wiring your home with "The Box" and digital wiring gives you so much more: flexibility, peace of mind and a home that is wired for the future.
"The Box" is a central connection point for your home's electronic services including Internet, Networking, Cable, Satellite, Telephone and future Entertainment systems. "The Box" is part of a standardized whole house wiring system called Universal HomeLine™. "The Box" is ahead of its time. It is uniquely designed to have unlimited wall jacks, change with technology and save you money by using an innovative jumper system.
Avoid expensive rewiring in the future to keep abreast of the fast changing electronic market by making a small investment now that will literally save you thousands and increase the resale value of your home. Build your home with "The Box!"